So Right So Smart
Running Time: 86 minutes
+ 56 Minutes on one disc
Gr. 9-Adult
Scene Selection
SDH Captioned
A Film by MagicGreen Productions
REVIEWS
"A powerful message of profound business opportunity. The perfect tool for any company seeking to make systemic breakthroughs in their business model."
- Amit Jain, MBA - LEED AP Management Consultant
"Extremely engaging and conveys clear benefits for businesses going green. Offers many useful ideas to individuals at all levels of business."
- David Feldman, Executive Director, Bethesda Green
"A visionary film that proves sustainability is good for the earth and good for your business."
- Joanne Bohigian, President/CEO, Foster City Chamber of Commerce
"
So Right So Smart
... succeeds big time. The documentary showcases some of the country's household business names that have turned the green corner and profited. The film discusses the issues, doubts, and challenges that await any management contemplating going the green way. A must watch for all...."
- Green Business Bureau
"
Recommended
. An excellent feature-length documentary profiling the leaders of the movement integrating environmental sustainability in business practices. Ray Anderson has an amazing screen presence and his story is expertly told. The fact that so many innovations in business and industry are caused by integrating environmental sustainability is making it a popular subject in business, management, and leadership programs around the world."
- Educational Media Reviews Online
"
Recommended.
A surprisingly captivating narrative....
So Right So Smart
is part of the second wave of environmentalist documentaries which tend to offer solutions and olive branches instead of scoldings and doom-saying."
- Video Librarian
"Excellent and well-pitched to a number of levels of students - some of whom may well prove to be the Ray Andersons of the future."
-Prof. Eric W. Orts, The Wharton School, University of Pennsylvania
"I used the film as an introduction to my MBA and undergraduate classes in sustainability. The film does a good job of introducing key concepts about life cycles, organizational culture change and leadership for sustainability. My students found it interesting without being too preachy or one-sided."
-Dr. Stephanie Bertels, Beedles School of Business, Simon Fraser University, Vancouver
"Tells the story of how Ray Anderson engaged a 'dream team' of environmentalists and battled resistance from within and without his company to completely revamp his corporation's culture, while making it more competitive and profitable. With inspiring stories and interviews with leading environmentalists, this film would be excellent for high school business or environmental studies classes."
- Green Teacher Magazine
"
So Right So Smart
quickly and compellingly makes the case for why doing business sustainably is not only needed, but can be exceptionally profitable, even in, or perhaps especially during challenging economic times. And they do it without coming across as unrealistic or ungrounded in reality. On the contrary, they show it all, including the doubts, the issues, the challenges to it."
-Paul Smith, Sustainability Consultant
"So Right So Smart should be required viewing for every executive and every employee in every corporation with more than 50 people. It's great to have environmental films that are positive with practical traction, but to have films be about positive, practical, and proven examples in the world of big business is vital."
-TheUnion.com


AWARDS & SCREENINGS
Winner, Best of Festival
, Wild & Scenic Environmental Film Festival
Winner, Best Feature
, Reel Earth Festival, New Zealand
Official Selection
, Washington DC Environmental Film Festival
Official Selection
, American Showcase, Atlanta Film Festival
Official Selection
, Savannah Film Festival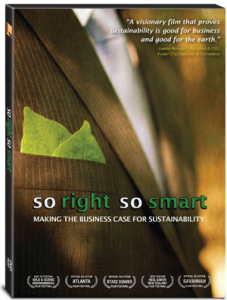 BUSINESS PRICING
Based on number of employees
LEVEL 1 (1-99 Employees) $295
LEVEL 2 (100-499 Employees) $495
LEVEL 3 (500-999 Employees) $695
LEVEL 4 (1,000+ Employees) $895
COLLEGE & GOVERNMENT PRICING
$295
DIGITAL STREAMING AVAILABLE
Contact Us
See License and Rights Notice Below
Narrated by Daryl Hannah
So Right So Smart
profiles companies on the cutting edge of more sustainable business practices who are proving that being environmentally friendly is both good for the earth and good for business. Their inspiring stories of leadership and innovative change provide hopeful models for the larger business community and other institutions.
The primary focus of the film is a behind-the-scenes look at the transformation of Interface Inc., a global carpet manufacturer led by Ray Anderson, one of the early pioneers of green business practices. In 1994, Anderson read Paul Hawken's
The Ecology of Commerce
and had an epiphany: the planet was in crisis and his business was contributing to the problem.
Anderson spearheaded an often-challenging effort to transform Interface to a "restorative enterprise". Working with heart and commitment, Interface surrounded itself with some of the top experts in sustainability to educate and hold the company accountable.
The film also includes shorter profiles of several companies who started out with a commitment to green business practices: Stonyfield Farm, Patagonia, Herman Miller, Seventh Generation and New Belgium Brewery.
Prominent environmental authors and business experts share their experiences and insights, including Paul Hawken, John Picard, David Suzuki, Janine Benyus, Mona Amodeo, Jonathan Lash, and Hunter and Amory Lovins.
Top executives featured in the film along with Ray Anderson include Yvon Chouinard of Patagonia, Gary Hirshberg of Stonyfield Farm, Doug McMillon of WalMart, Dan Hendrix of Interface and Paul Murray of Herman Miller.

FOR MORE INFORMATION, VISIT WWW.SORIGHTSOSMART.COM
---
LICENSE & RIGHTS NOTICE
Purchase at any of the above levels includes one DVD licensed for internal use and screening in your business or institution only, not for public screening. For multiple DVDs, license to screen the film in a public setting, digital rights, use of film clips or other rights, please
contact us
.
---